15/02/21
Four Reasons Scientists Should Be On Social Media
As a scientist, incorporating social media into your work may not feel intuitive. However, it might just be the edge that you— and your peers — need to give yourself a lift in the industry.
Just ask Michelle Gallaher, Chief Executive Officer of Opyl Ltd. With 25 years of experience in biopharma marketing and advocacy, she declares social media and its connections as a major instrument of her success.
"Initially, I saw social media as a good way to keep connected with my kids" commented Michelle. "Today, it has given me a huge competitive advantage".
Today, boasting more than 7,600 followers on Twitter and over 500 connections on LinkedIn, Michelle swears by social media for all it has to offer — facilitated interactions through the creation of networked communication channels. With such a powerful tool at your disposal, it would be almost criminal not to use it, and these are our top reasons why.
Making new connections
Meeting new people in your field and forming connections that you otherwise wouldn't have is social media's specialty. The pool of peers is far larger on social media than that within your department, university or research institute. And with this, so are the opportunities. Improving your connections offers many benefits, including career advancement and the exchanging of scientific information. When you become active on a social media platform, the people with whom you interact form the basis of your network.
"It's like the perfect radio station that just talks about biotechnology" says Michelle, when asked about Twitter.
Study recruitment
Social media is great for researchers who wish to increase the awareness of their studies and recruit those who want to get involved. Many researchers post recruitment flyers on pinboards or the back of toilet doors, hoping that someone of interest will see. But there is a far more targeted and powerful tool at hand — social media.
With a small advertising budget, and we've seen success with as little as $50, you can use the sophisticated targeting tools available on social media platforms. For example, if you're undertaking a study investigating the effects of working a desk job on heart health, you can identify your target market, drilling down to the fine details such as their type of employment, geographic region, age and even their place of employment if you wish to target people from a particular organisation. Far more efficient than putting a poster up in a university hallway.
Reaching the people who matter
If our research only lives in a journal, it's unreasonable to assume everyone should know about it, or have the ability to read and interpret it. Social media offers us part of the solution to this problem. Scientists and researchers can discuss the findings of their research, and the broader implications, such as how results may change how we treat a particular disease, via conversations on social media. It provides the opportunity to engage with government officials and departments, health centres and practitioners. Isn't the ultimate aim of a lot of the research we do is to improve our way of life, how we operate, what is considered best practice? – Social media works to speed up the 'trickle-down' effect of information, and that can only be a good thing.
Shaping the conversation
As great as social media can be, it does have a dark side. This usually takes the form of false viral scientific facts, some of which can proliferate very quickly. The field of nutrition is no stranger to this: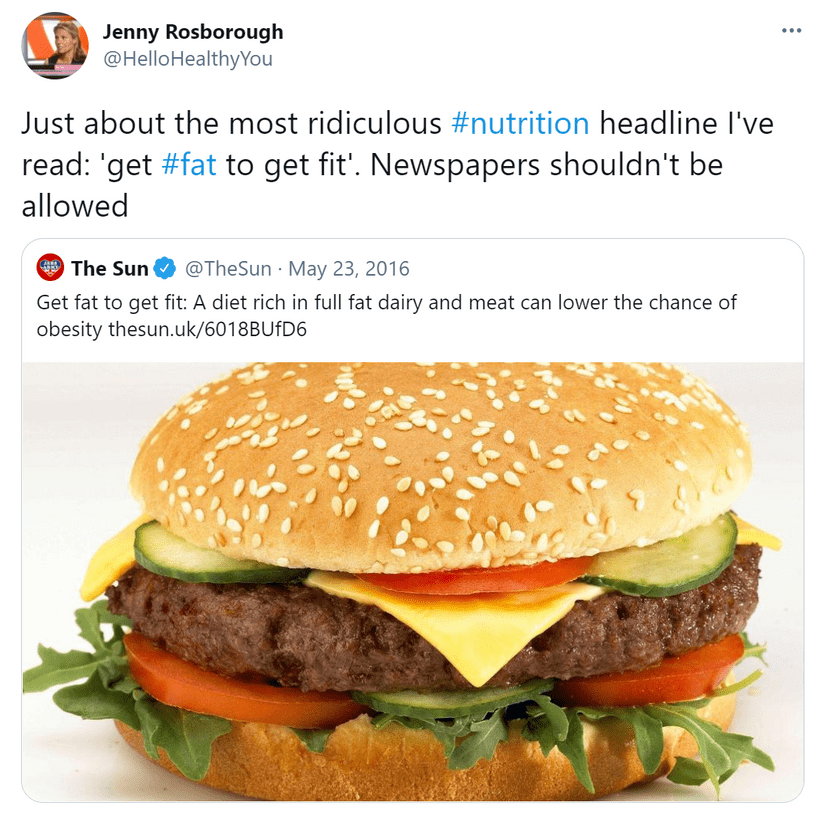 "It's essential that scientists don't forget our individual responsibility and privilege to be science communicators in our daily lives, to our friends, family and neighbours¹".
…
¹Parkes, Elieen. 2017. Why scientists should communicate science – getting to the heart of the matter. Naturejobs Blog. http://blogs.nature.com/naturejobs/2017/11/20/why-scientists- should-communicate- science-getting-to- the-heart- of-the- matter/
This piece was originally written by Alex Barrington (15/02/2018). There have been minor adjustments to the piece to accommodate new updates.